By: Greg Rak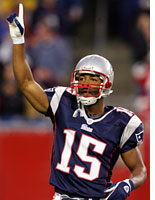 The Patriots have cut WR/Special Teamer Kelley Washington and OL Billy Yates.
Yates was a reserve at center and guard. He started 7 games in 08' and was in the final year of his contract which was less than 1 Million.
Washington was a superb special teamer but was rarely used at wide out. When signing from the Bungals, Washington was thought to be in competition for the 3rd/4th WR but his talents never shined through. He was owed a little bit over 1 Million this year. Washingtons speciality was downing punts. My thought is that with other specialists on the team such as Matthew Slater and Sam Aiken. Both of those players have higher upside and are more versatile at other positions so Kelley was moved out.
I will miss him waiving his finger in the air after downing punts inside the 10. Good Riddance Kelley.