By: Greg
Its a new trend like girls
getting the Rachel
or everyone wearing
shoes named after an aminal (and look folish on men)
or a new way to
wash your car
.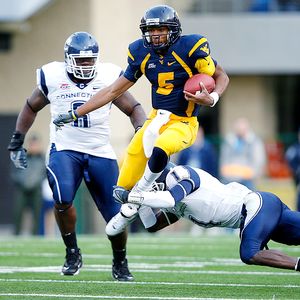 Its the Wildcat... a new trend in the NFL where you have an athletic player who has the option of throwing, running or handing off the ball. The Dolphins torched the Patriots early in the season this new offense and many other teams followed by using this offesne very sucessfully.
The Patriots always have had a similar offense with Kevin Faulk taking a direct snap but it does not have the same effect of having a guy who can run, pass or hand off.
That brings me to my point which is the Patriots are hosting Athletic QB Pat Wildcat White on Monday and Tuesday. White was a quaterback at West Virigina and not only tore it up passing but could run all over defenses if given a chance.
"He set the NCAA record for career rushing yards by a quarterback with 4,480 and the Big East mark for touchdowns with 103.
He also managed to break Marc Bulger's West Virginia record for career completion percentage, connecting on 64.8 percent of his passes."- Globe
Patriots are taking a good look at White who could go as soon as the 2nd round. They could use him as a 3rd QB, a WR and/or Kick Returner/Punt Returner.
We have seen guys like Randel el, Joshua Cribbs, Kordell Stewart and others move from QB to WR once they get into the NFL. Cribbs and Randel El have been in the top of the leaguein Kick Return Yards average the past couple years and are threats on the offensive side of the ball too. White could be could be the next guy to turn from QB college star to Playmaker in the NFL.
The Patriots have never really had a guy like that and I think that with the wealth of Draft Picks that the Patriots have they should reach out and get this guy. Imagine having the backfield of White, Maroney and Taylor with Randy Moss running a streak down the field and having to defend that. The only words I would have for that would be SHAM WOW!