By Greg:
This is our second edition of polling the FOBs (Friend of the Blog). The question we asked you:
Which new addition will have the biggest impact on the Pats next season?
The FOBs think that Fred Taylor will have a big impact on the Patriots offense and Leigh Bodden will bolster the secondary. Taylor came in first in the poll with 34% of the vote. I agree with those FOBs. I think instantly Taylor becomes the starter and/or the back whom gets the most carries per game. Laurence Phony Bologna Maroney is not the guy, he is hurt too much and runs scared. Taylor will be a beast late in games and in the winter weather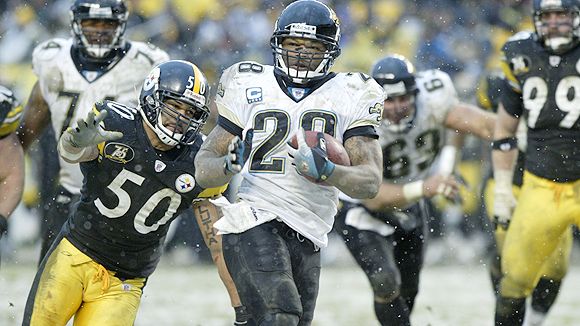 of the AFC. Taylor gives Brady an actual threat in the backfield so that defenses can not double and triple team his receivers.
Coming in second was Leigh Bodden with 32% of the vote. As of right now I am not as high on this guy as the rest of you seem to be. The upside is that Bodden will be playing for a contract--and he is talented--but he played for one of the worst secondaries in the league last year so I do not see him upgrading the Patriots that much.
Surprisingly Joey Galloway accounted for only one vote. I think Galloway is a huge upgrade over Gaffney and I'm chalking him up for 900 yards if he is not hurt. I think acquiring him added a speedster to Brady's arsenal. And, unlike when he played for Tampa, he will not be double teamed thanks to Moss and Welker.
Eight wise guys or gals picked "I Do not know, I am going to have a Gansett. " Don't mind if I do.