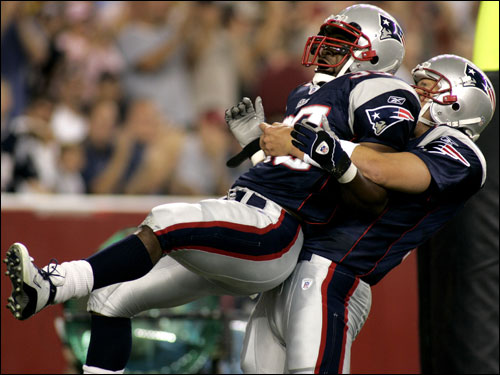 By: Greg
One of BB's favorite players is back with the Patriots. Fullback/Running back Patrick Pass has signed with the Pats. He joins a very crowded backfield and looks to be on the outside looking in.
The 31-year-old Pass was out of football last season. He left the Patriots following the 2006 season, which he ended on injured reserve with a hamstring ailment, and signed with the Houston Texans, who cut him coming out of training camp. He then hooked on with the New York Giants in November 2007, but was released after playing in one game.- Globe
Pass won three superbowls with New England and was one of BB's favorite players because of his versatility.
My guess is that he does not make the team. He has been out of football for a year and the back field is extremely crowded. The one thing he does have going for him is that he can play full back and H Back, two areas in which the Pats are thin. He also has experience under this coaching staff and they seem to like him.