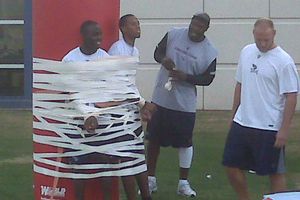 By: Greg
Over the past week the Patriots have been hard at work signing the guys who will soon be taped to goal posts or signing
thier
fight song at dinner in front of the whole team.
Here is a snapshot of the contracts of the 9 rooks signed:
George

Bussey
-
OL
-
Louisville
- Four Year Deal
Ron Brace
-
DT
- BC- four-year deal with the club with roughly $2.82 million in guarantees.
"Ron's very excited to get his deal done with the Patriots," said Haber. "It's a dream come true for him. We have a lot of respect for their organization, and we look forward to watching Ron develop in New England."
Julian

Edelman

-
Athlete- Kent State- four-year deal with a $48,700 signing bonus
Brandon Tate-

WR
-
UNC
- four years with a $755,000 signing bonus- Will start the year on IR
Sebastian

Vollmer

-
OL
- Houston- unknown deal
"It's exciting to get the deal done," said Roth. "Working with Floyd Reese and Richard Miller those guys are good and very fair, and we were able to get a deal done. We're pleased and Sebastian is excited to get to work."
Darrel Richard-

DL

- G Tech
signed four year deal
Darius Butler-
CB-
UConn
- Four Year- 440,000 roster bonus
Reported on Twitter
Rich

Orenberger

-

OL

- Penn State-
unknown deal
The only remaining picks who haven't signed or come to terms are the team's top overall pick, safety Patrick Chung, third-round pick linebacker Tyrone McKenzie and sixth-round pick long-snapper Jake Ingram.
McKenzie is already out for the season getting hurt in
OTAs
. Chung will get the highest deal out of any of the rookies because he was the highest pick. He also will most likely be the biggest contributor to the Pats.
New England Patriots Blog -
Blaugh