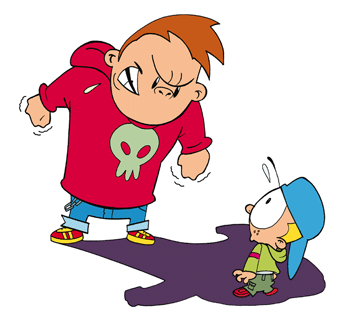 By: Greg
If there is one thing you learned in middle school it was not to rile up the school yard bully with trash talk (especially if you are the new kid at school) and if you did once make sure you do not do it again....why....because you are either going to get the stuffing kicked out of you or you are going to live in fear that you are going to get the stuffing kicked out of you.
Well in this scenario Rex Ryan is the new kid at school and B.B. is the bully. Earlier this year Rex Ryan said that he was not afraid of B.B. and he is not here to kiss his rings......OK now you made BB mad and you know the first chance he has hes going to put up 50-60 points just like the record breaking year two years ago (thats when the rat/ crybaby Magini went and told the principle on BB) and embarrass the Jets.
So you would think if you are Rex, thats enough I am not going to say anything else. Hell I have a rookie QB I should be afraid of the Pats. But NO, he went and put gas on the fire instead by saying this.....
"we'll probably kick your (butt)....."When I said that about Belichick ("I'm not here to kiss his rings."), I'm just
letting him know I'm not intimidated by him," said Ryan at his noon press conference. "He has the same position as I have. We're both head coaches in this league. He just happens to have a helluva lot of Super Bowl rings and I don't have a win. I understand that.
"But again, we're not going to tiptoe our way through this thing. You don't line up and beat a Bill Belichick-coached team by tiptoeing in there. We're just going to be ourselves. I'm going to be myself. That's just the way it is.
"How much motivation are they going to get by putting a quote from me on the wall saying that I believe in my football team. That I'm not going to be intimidated by a coach or anyone else. If that's where you're going to draw motivation from, hell, we'll probably kick your (butt). I mean if that's the case."
Ohhhh it is on. You and I know that BB does take this kind of talking too lightly. So in week 2 expect no mercy and the Jets and their rookie QB to take a beating. The players also hear this and they will back their coach, there is no doubt about that.
New England Patriots Blog