By: Greg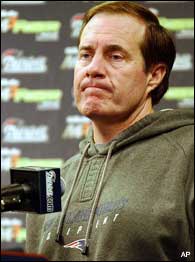 Well I am still crying inside from the embarrassment that occurred on Sunday. I cant believe another season is over and we have to wait until August to see the Patriots in action again. Well with all that bad news of a first round KO there also comes a little bit of good news. Because of the uncapped year in 2011 there are some weird rules about the upcoming season. One rule is that if you are a remaining 8 teams in the playoffs you have restrictions on the free agents you pick up. Since the Pats did not make the final 8 they have no restrictions reports the
Globe
:
"In losing, the Patriots ensured they will have the freedom to spend as much money on unrestricted free agents as they want this offseason. The eight playoff teams remaining will be restrained in how many free agents they are allowed to sign this offseason because of the rules that govern a year with no salary cap.


The teams who made the final eight but lose this weekend will only be permitted to sign one unrestricted free agent for $4.925 million per year or more, plus the number of their unrestricted free agents sign with another team. They can also sign any unrestricted free agents who sign for less than $3.275 million per year.


The four teams that make the conference championship games cannot sign any unrestricted free agents unless one of their unrestricted free agents is signed by another team. In the case of all final eight teams, the unrestricted free agents they sign to replace unrestricted free agents lost cannot exceed the salary of the player lost." Globe

The Patriots have many holes to fill and this off season is one of the biggest in a long time. With the ability to go after whom ever they like this gives the Pats a little bit of an advantage going into next season. The Blaugh will be following everything going into next season in hopes of a super bowl in 2010-2011.