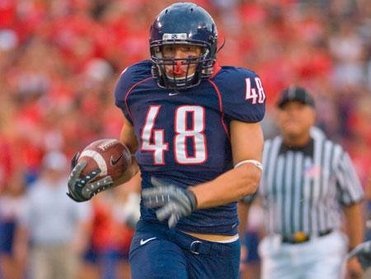 By: Greg
With the Pats first pick in the second round, they traded up to grab a TE out of Arizona, Rob Gronkowski. I don't only like Robs last name but I also like Robs game. Gronkowski sat out all of last season with an injury but if he had played was a sure fire first round pick. Even sitting out the season many thought that Rob was a first round talent. He was ranked the number two TE by most experts. In his last year of play he had 47 catches for over 600 yards and an astounding 10 tuddies.
If anyone was watching NFL Network during the draft they would have imediately fell in love with this guy. Why?
instead of bring just a hat to shake hands with the commish, Rob brought out the Patriots helmet
before going on stage Rob and his crew jumped up and down in a circle chanting something, but it looked like they were about to go out and play a basketball game
After in the green room he put on the Patriots helmet and gave a Lions helmet to his friend and did blocking drills with his friend
This guy will be a fan favorite and a top target for Tom Brady for years to come. It looks like this guy was made to play football.
Here is his scouting report from NFL Draft Coutdown
Strengths:
Excellent height and bulk with long arms and large hands --- Terrific natural athleticism --- Soft, reliable hands --- Superb body control and ball skills --- Good route runner who knows how to get open --- Able to get off the line and beat the jam --- Runs hard after the catch and will break tackles --- Flashes some strength and power --- Excellent blocker both in-line and in space --- Plays with an edge and finishes --- A Hard Worker --- Tough --- Competitive --- Productive --- Fantastic Bloodlines.
Weaknesses:
Health / Durability are major concerns --- Not very explosive --- Is a bit stiff --- Average game speed, acceleration and quickness --- Doesn't get a lot of separation --- Won't be much of a vertical weapon --- Not real elusive and won't make people miss --- Is relatively inexperienced.
Notes:
Was a two-year starter for the Wildcats --- Named 1st Team All-Pac-10 in 2008 --- Father, Gordon, played football at Syracuse --- Brother, Dan, plays tight end for the Detroit Lions --- Brother, Chris, also played at Arizona and is eligible for the 2010 NFL Draft --- Brother, Gordie, played minor league baseball in the Los Angeles Angles system --- Sat out three games in 2008 with what was believed to be either strep throat or mononucleosis --- Missed the entire 2009 season after undergoing surgery last September to repair a herniated lumbar disk and nerve damage in his back --- Burst onto the scene as a true freshman and has been considered to be the top tight end prospect in his class for quite some time --- Nice all-around player who earns high marks as a pass catcher and blocker --- A legitimate first round talent but stock is clouded by the back injury, an ailment that can linger and have long- term ramifications -- Profiles as a starter assuming he can stay healthy.
Videos
Touchdown catch: knows how to use that body
Running over players
On going to the NFL