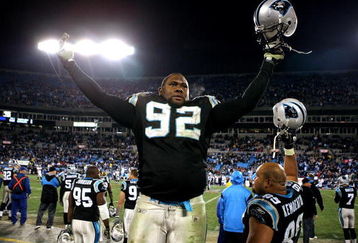 By: Greg
After getting absolutely lit up by Ray Rice and the Ravens offensive line in a pathetic excuse for a playoff game, the Pats knew they had to get help on the defensive line in terms of stopping the run. The first step was resigning Vince Wilfork. Now the Patriots have grabbed another run stopper.
The Patriots have signed Damione Lewis from the Carolina Panthers. Lewis was a surprising and late cut from the Panthers under a month ago because of salary implications. Last season he started all 16 games while playing in the 4-3. He had 30 takedowns, 4 sacks and hurried the QB 11 times.
Lewis was a former number 12 pick overall for the St. Louie Rams. He played there for five years before moving on to Carolina.
Lewis will slip in for the departed Jarvais Green and come in on running downs stuffing up the gut. The Patriots could even go to the 4-3 on obvious running downs and play Lewis with Wilfork which would make it very difficult for the Pats opponents to get any yardage up the middle.
Lewis is a sneaky but very good pick up that might go unnoticed by many Pats fans but it will pay dividends when the Pats need to stop the run. The Pats pick up a former starter and first round pick who will spell Wilfork and combine with big Vince for a running stuffing duo.