By: Greg
The Patriots opened up with a great win over a playoff team in the Bengals. The offensive looked on point and the defense stepped up to the challenge of playing a good running and passing team in week one. Special teams was more than special.
Here are 10 observations from Game 1:
1. The young CBs really stepped up. McCourtey and Butler showed they can go toe to toe with two of the better receivers in the league.....this was one area in which I was scared coming into the game
2. Speaking of young ins- the two rookie TEs are going to make this offense dangerous. Aarron had a nice catch and run while Gronk had two key blocks on two different tuddies, he also had a tuddie of his own.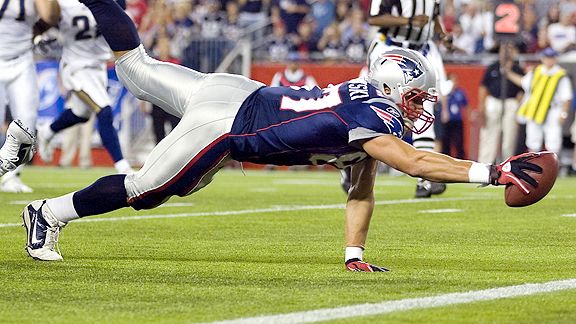 3. How about the shot of Robert Kraft and his cufflings, i went blind for a minute seeing those things....and what was he doing eating a napkin?
4. The KickCoverage was out of this world......Gostowski boomed kicks and the young fast special teamers got down the field tackling the Bungals inside the 20 numerous times.
5. How shocked was BB when Ocho Cinco slapped him on the ass
6. The defense looked shaky in the third quarter but that is to be expected when up by 28 pts
7. Did you see Gronkowski is still sporting his training camp haircut (mohawk) , but then again so is Tom Brady
8. Good to see Brady and offensive play caller Bill O'brien on the same page....they embraced after a big drive, Brady seems comfortable this year.
9. You see the commerical for "three and a half men" the kid got HUGE, it should now be called Four Dudes
10. Two outside linebackers, Tully and Guyton, came up big. Guyton with his pick 6 and coverage on the TEs and Tully was key in the run game and got to Carson Palmer numerous times.
BRING ON THE JETS