By: Greg
The Patriots defense was not a strong point last season especially the secondary, now it has received a crushing blow to both. The Patriots have already lost one of their best players on the defensive line, Ty Warren and now they have lost their best corner back in Liegh Bodden.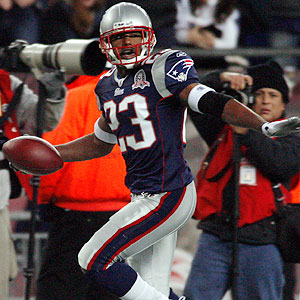 Bodden was the Patriots best corner by far last season and just signed a four year 22 million deal in the offseason. He played in his first preseason game last week and it would be his last game action for the year. Bodden torn his rotator cuff and will need surgery ending his season before it even started. This leaves a GAPPING hole in the secondary and a big hit to the defense. Now rookie Devon McCourtey and second year player Darius Butler are forced into starting roles. Both players looked really bad in the last preseason game vs the Rams. This also makes guys like Terrance Wheatley and Jonathan Whilite (who have been busts so far in thier short careers) get serious playing time.
Losing Bodden could really hurt the Patriots chances this year. They will have big trouble covering teams with multiple WR threats and will have trouble getting off the field on third down. Not the way to start the year.