By: Greg
Two weeks ago I got the courage to watch sports center again, hoping not to see any Super Bowl Highlights and I passed that test. Now I have gotten the courage to start writing for the Bluahg again, forgeting about the lockout season that never happened (right?) and getting really excited about this team again.
Below is the Patriots Blauhg's annual Mock Draft. The Pats have two first round picks again. I have shown each teams needs and a brief description why I went with each pick.
For a complete list of mock drafts go to
Mock Draft Database
1.
Colts (Needs: QB)- Andrew Luck QB Stanford
Indy Locks up its future with a little Luck.
2.
Redskins (Needs: QB)- Robert Griffin
The Skins trade a whole lot to get Griffin, they desperately need a QB since Mark Rypkien. People are excited in Washington but could this be a Ricky Williams (trade the whole draft) situation.
3.
Vikings (Tackle, CB, WR): Matt Kahil OT

USC
Vikings need a franchise OT and Kahil is the guy to go with here, he will protect Christian Ponder for years to come.
4.
Browns (QB, WR, RT, RB)- Trent Richardson RB Alabama
The decision here in my mind is Blackmon or Richardson I think Blackmon can really help out Colt McCoy and but Richardson provides too much value here with the Browns losing Peyton Hillis.
5.
Buccaneers (CB, LB, RT): Morris Claiborne LSU CB
The best defensive player on the board goes here to a team that needs a CB badly. Perfect pick if this guy can fall to them.
6.
Rams (WR, OL, DT): Justin Blackmon WR Ok State
The Rams lost Brandon Lloyd to the Pats so they need a game breaker who can help out Sam Bradford.
7.
Jags (WR, CB, DE, FS) Melvin Ingram

DE SC
The Jags need a lot of help in many places. I can see them going anywhere from WR, DE, OT or reaching for

a Safety. They will settle for Ingram who is a pure athlete and can get after the passer.
8.
Dolphins (QB, WR, RT, DE): Ryan Tannenhill

QB

Texas AM
The biggest mistake of the draft comes here when the Dolphins who need a QB so badly reach for Tannenhill. With no WRs to throw to and not being ready to play in big time games Tannenhill will fail and the Phins will be looking for another QB in 3-4 years.
9.
Panthers (DT, CB, G)

Fletcher Cox DT Missippi State
Panthers need some beef up front on the defensive side of the ball. They would love to see Cox fall to them here.

Luke Kuechly is a possibility here too.
10.
Bills

(LT, CB, LB,)

OT Riley Reiff Iowa
The Bills made a splash in free agency with Mario Williams and Mark Anderson, which allows them to look for something else in the draft. Reiff falling to them gives them a much need anchor to the offensive line and protect Mr. Harvard.
11.
Chiefs (QB, NT, G/C): Luke Keuchly

LB BC
Luke is a tackling machine, too good to pass up here. The Chiefs have a guy the will patrol their middle for years to come.
12.
Seahawks (DE, LB,) DE Quinton Coples

NC
The Seahawks need some one to get after the passer and even though Coples has been dropping in Drafts, the Hawks see too much talent in him to let him slip past 12.
13.
Cardinals (OT, LB, WR) Cordy Glenn

OT

GA
Wisenhunt loves big guys up front and Cordy is that guy for Arizona. Cordy played mostly G but switched to Tackle his senior year and excelled.

A sneak pick here might be Malcom Floyd.
14.
Cowboys (C, S, DB) Mark Barron

S Alabama
Barron has been rising up the draft boards and many teams are in need of a Safety. Barron is a smart player who is the only first round talent at Safety.
15.
Eagles (LB, DT, CB, S) Memphis DT Dontari Poe
All signs point to the Eagles selecting a DT here, the best one on the board is Poe.
16.
Jets (WR, T, S) Malcolm Floyd WR Norte Dame
The Jets could go in many different directions here but decide to select Floyd who is a stud athlete and a play maker. The Jets want more playmakers for Sanchez, Floyd fits that role.
17.
Bengals (S, G, WR) Stephen Gilmore CB SC
Gilmore slips in this mock and the Bengals are happy to scoop him up here. If Gilmore isn't available Dre Kirkpatrick will be. Gilmore is a steal this late.
18.
Chargers (T, G, LB, CB)

David DeCastro

OG

Stanford
With Kris Deilman retiring the Chargers have a need for OG, DeCastro fits that need and is one of the best players remaining on the board. A win win for the Super Chargers.
19.
Bears (OL, TE)

Coby Fleener

TE Stanford
With Mike Martz gone and the increasing need for a stud TE in the NFL, the Bears make a somewhat surprising pick and grab Fleener before anyone else can.

Fleener will make Cutler and Marshall that much better. A smart pick.
20.

Titans (C, G, LB, CB) Dre Kirkpatrick

CB Alabama
The Titans lost Cortland Finnegan and look to fill his slot. Dre is a talented CB who just flat out knows how to play football.
21.
Bengals (S, G, WR, CB) Kendall Wright

WR Baylor
The Bengals filled a need in the CB slot with their first pick and fill another need at WR with Kendall Wright who is a big play receiver and will fit in perfectly with AJ Green, giving the Bengals a young lethal 1-2 combo at WR for years to come.
22.

Browns (QB, WR, RT, RB): Jonathan Martin OT Stanford
The Brownies reach a little bit for Martin who protects Andrew Luck in college. Filling another need and pairing him up with Blackmon earlier in the draft.
23.

Lions (CB, S, C)

Janoris Jenkins of North Alabama

CB
The former Gator has talent but has gotten into trouble lately. The Lions take the risk because his talent is too big to let it pass by.
24.

Steelers (T, G, CB, NT, RB,) Mike Adams OT Ohio State
The Steelers offensive line has too many holes not to draft a lineman in the first round. Donta Hightower is a possibility but they need to protect Big Ben first.
25.

Broncos (OL, C, DT, WR) Michael Brokers DT LSU
The Broncos were the talk of the NFL with signing Peyton Manning. Elway has done a tremendous job in the draft and makes a smart pick with Brokers helping out that defensive line.
26.

Texans (WR, G, T, NT): Stephen Hill WR

G Tech
Andre Johnson desperately needs a threat to line up with him at the WR spot. Taking Hill here would give the Texans a threat outside taking the pressure off of Johnson to do it all himself.
27.

Pats

(Pass Rusher, Safety, Corner Back, OLB, OL,) Nick Perry DE USC
The Pats have two picks in the first round and will most likely trade one. Again the Pats struggled getting to the QB and they have lost Mark Anderson to the Bills and who knows if Andre Carter will be coming back. Every year I have the Pats taking a pass rusher in the first round, will this be the year that they do it?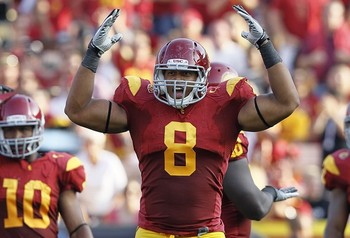 Nick Perry is a versatile player who can play DE or OLB something BB loves to see out of his players. Perry led the Pac 12 in sacks last season and had a total of 21.5 sacks in three years with USC.
Here is the scouting report from NFL Draft Countdown
Strengths:

• Good bulk with a muscular, yoked up physique
• Terrific athleticism with very good body control
• Explosive with excellent speed and a burst
• Is able to bend off the edge and run the arc
• Strong with more power than you'd expect
• Active, violent hands to strike and disengage
• Adequate run defender and surprisingly stout
• Fantastic range and does a nice job in pursuit
• Will offer positional and schematic versatility
• Pretty productive against quality competition


Weaknesses:

• Does not have ideal length ( height or arms )
• Stiff with average agility and change of direction
• Motor runs hot and cold and disappears at times
• Must develop additional rush moves / counters
• Questionable instincts and overall awareness


Injury History:

• Missed one game with a sprained ankle in 2011


Notes:

Was a two-year starter for the Trojans --- Named 1st Team All-Pac-12 in 2011 --- Led the Pac-12 in sacks in 2011 --- Could project to either defensive end or outside linebacker at the next level depending on the scheme --- 35 reps of 225 pounds in the bench press --- A workout warrior who really opened some eyes with combination of size, speed and strength at the Scouting Combine --- Inconsistent and too reliant on natural ability so must work on rounding out skill set but potential is undeniable --- One of the most dynamic pass rushers in this class.
Other Possibilities: Nick Perry DE USC, Chandler Jones DE Cuse, Alan Branch DE Clem, Courtney Upshaw OLB Ala, Hightower ILB Ala, Janoris Jenkins CB N. Ala,
28.

Packers (LB, S, DE, RB CB)

Courtney Upshaw OLB Alabama
The Packers need another LB to team up with Clay Matthews. Upshaw is a guy that fits that role and could step in and start right away for one of the Super Bowl favorites.
29.

Ravens (LT, WR, C, LB) Peter Konz C Wis
While it would be very tempting for the Ravens to select Hightower, the ILB out of Alabama and have Ray Lewis groom him; Konz fits more of a need for the Ravens.
30.

Niners (G, T, LB) Kevin Zeitler OG Stanford
The Niners covered some needs in free agency but not at the G position. Kevin is the exact type of player that they Niners need.
31.
Patriots (Pass Rusher, Safety, Corner Back, OLB, OL,) Donta Hightower ILB Alamabama
I believe this is where the Patriots trade. I do not see them using both their picks in the first round. Getting a future first rounder would be ideal but if the Pats do take this pick they will have a few choices.

I could see them going with a Safety with this pick in Harrison Smith out of Norte Dame who was a four year starter, very high football IQ and plays special teams (an ideal Belichick player).
But in this mock I have Hightower slipping all the way to end of the first round. If Hightower is here he would be hard to let slip. Belichick has a great relationship with Nick Saban and loves getting his players. Hightower was a 1st team all American last season and totaled 85 tackles. He would team up with Mayo to make one of the best young line backing cores in the league.
Here is his scouting report from Draft Countdown:
Strengths:

• Outstanding frame and bulk with long arms
• Strong, powerful and will deliver the big hit
• Extremely stout run defender inside the box
• Shows the ability to take on / shed blockers
• Plays with heavy, violent and active hands
• Still has potential as pass rusher and blitzer
• Excellent instincts with a very high football IQ
• Will offer positional and schematic versatility
• Respected team leader and served as captain
• Mature and motivated with a great work ethic


Weaknesses:

• Struggles in space and is a liability in coverage
• Stiff with limited range, explosiveness and burst
• Not real agile and doesn't change directions well
• Limited repertoire of pass rush moves / counters
• Questionable motor and is too protective of legs
• May have some durability and conditioning issues
Notes:

A three-year starter for the Crimson Tide --- Named 2nd Team All-SEC in 2010 and 1st Team in 2011 --- Consensus 1st Team All-American in 2011 --- Was responsible for all the play calls and checks on one of the nation's premier defenses --- Graduated with a bachelor's degree in four years --- Lost a step after major knee injury early in career but is still quite a football player --- Much better against the run than the pass and may need to be protected within a scheme --- Could project to either inside or outside linebacker in a 3-4 or middle linebacker in a 4-3 but best fit will likely come in an odd front similar to the role he played in college --- Classic thumper with rare size and top intangibles.
NFL Player Comparison:
Rolando McClain
32.

Giants (G, S, TE, RB)

Doug Martin RB

Boise State
The Gmen lost Brandon Jacobs to free agency and this league is a two running back league. While they like Scott and Ware, my feeling is they draft their second rated running back after Richardson: Doug Martin, Lamar Miller, or David Wilson.
Martin will give the Giants a very nice one-two punch once again.